At the Gates is the ninth mission of Hitman 2: Silent Assassin, and the third mission of the Japan saga and also the third part of the hit on Masahiro Hayamoto.
Target:
Masahiro Hayamoto
Power Generator 1
Power Generator 2
Power Generator 3
Background
The objective is to infiltrate Katsuyama-Jo, the remote, highly secure castle of the Japanese arms dealer, Masahiro Hayamoto.
Mission Briefing
47 — this is Diana from the Agency. We've been monitoring the small tracking device in the late Hayamoto Jr.
We managed to track down Hayamoto Sr., thanks to your fine work. We're quite excited since Hayamoto hasn't been registered in public for more than 15 years.
He emerged at one of his castles in central Japan. This makes it a very tricky assignment.
Objectives
Get to the castle undetected
Wait for the briefing on alarm grid
Weapons
Disguises
Maps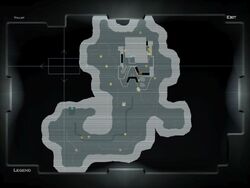 Trivia
The briefing for this mission is word-to-word similar to the previous one, albeit shorter due to some paragraphs that only concern the previous mission were cut.
The title card used is the same to the one used in the previous mission.
This mission was voted by the Hitman fans as the Worst mission of entire Hitman franchise.
If you manage to get Silent Assassin on Xbox 360 version, your Xbox Live account will most likely be audited for suspected cheating.
Community content is available under
CC-BY-SA
unless otherwise noted.