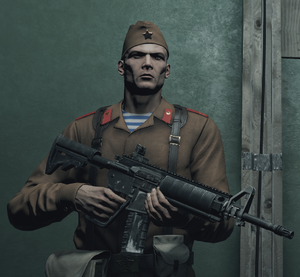 This is a list of gear and weapons in HITMAN™. It contains the complete list of pieces of gear, as well as both lethal and non-lethal melee and firearm Weapons.
Gear
Main article: Gear
Distractions
Explosives
Poisons
Tools
Weapons
Main article: Weapon
Firearms
Assault Rifles
Pistols
Shotguns
SMGs
Sniper Rifles
Melee
Lethal
Non-Lethal
See also
It's a straightforward assignment, 47.
This article is a stub and is in need of expansion. You can help the Hitman Wiki by expanding it.