"Think Deadly."
―HITMAN™ 2's Tagline
| | |
| --- | --- |
| | This article is about the Sniper Assassin game mode. For the main game, see HITMAN™ 2. |
HITMAN™ 2: Sniper Assassin is a companion game for HITMAN™ 2 which uses a standalone client and can only be acquired by pre-ordering the main game. The client was later discontinued and absorbed into the full game upon release. As such later additions to the Sniper Assassin game mode such as new maps or weapons are not apparent in the standalone version.
Gameplay Overview
As the title suggests, gameplay focuses on using a sniper rifle to eliminate key targets, in the typical Hitman fashion, with the key difference being the limitation to both movement and tools at your disposal. Players must examine the level and make use of objects in the environment to create accident kills and hide bodies.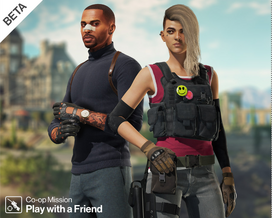 Creative use of the world around you results in a higher score, as each assassination now awards points based on the actions taken, such as hiding the body, creating a distraction prior, killing a moving target and many more. This works both ways however as you will also lose points for harming incorrect targets or alerting guards and so on.
As with previous iterations of the series, players can achieve the 'Silent Assassin' rating and compete for the best score on the world leaderboards, as well as complete various challenges as set out by the mission.
After every assignment, players will gain Mastery to upgrade Agent 47's snipers, the Sieger 300 Ghost and Druzhina 34 ICA, depending on the location, with perks such as increased zoom and different ammo types.
Multiplayer (BETA)
For the first time in modern Hitman, players will be able to play together co-operatively in the Sniper Assassin game mode. Instead of using Agent 47 in the single player version, the playable cast of characters during co-op gameplay consist of agents Knight and Stone, each with their own unique rifles, the Jaeger 7 Copperhead and Jaeger 7 Rude Ruby along with the Sieger 300 Redeemer and Sieger 300 Viper respectively.
Competition
An Agent that doesn't know their way around a sniper rifle doesn't belong in the ICA. Pre-order HITMAN™ 2 and compete with Agents across the world. The Agent with the highest score on the solo mode will win a contract of a lifetime.
― HITMAN 2's competition website
Early promotional campaigns for
HITMAN™ 2
tasked players with achieving the highest position on the world leaderboard in the single player mode for the chance to have their likeness recreated in one of the upcoming missions.
[1]
Locations
Videos
Gallery
Promotional Material
References
↑ "Win and get your face in HITMAN 2". Official HITMAN website. Retrieved 3 November 2018.