Hello 47, we've some business at the wiki.
This article, or a section of this article, does not meet wiki standards. Please improve this article so that it meets our standards.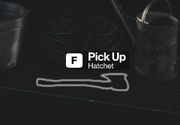 The hatchet is a weapon featured in HITMAN™. When obtained, the hatchet is very dangerous, you can throw it or use it in close combat. When you take down somebody with the hatchet, no matter how, it will leave a pool of blood, which could alert other people when seen.
Locations
Both the hatchets can be found on the outskirts of Palais de Walewska on the ground level. One is located just north of the north western shed. The other one is located in the south east part of the most south eastern park, located on the south side of the palace.
Community content is available under
CC-BY-SA
unless otherwise noted.