The Plague Doctor outfit is a unique disguise that can be found in HITMAN™.
Description
Found inside the observatory of Villa Caruso on a display rack.  Wearing it allows 47 to stand in front of the display and blend in, pretending to be an empty costume.  
It's one of the few disguises that is even more restrictive than the suit, since entering the church or the graveyard in the Plague Doctor disguise is considered as trespassing.
Location
The disguise is unique and can be located in the north west corner of the Villa Caruso grounds, on the ground floor of the Observatory building. It is mounted in the north west corner of the room and Agent 47 can hide inside the costume in order to blend in. Once you cancel blending in, you will be able to move freely around in the disguise. You are able to blend in again in the corner as long as you are wearing the disguise.
There is an Amputation Knife and a Circumcision Knife on display on each side of the costume.
Appearance
The Plague Doctor outfit appears in the following missions:        
HITMAN™
Trivia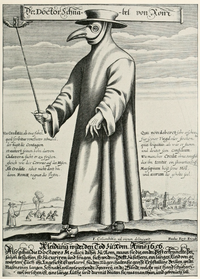 The Plague Doctor disguise is based on the real Plague doctor costume. This was used by some of the real plague doctors who existed around the 15th, 16th and 17th century. A plague doctor was a medical physician who treated those affected of Black Death, one of the most devastating pandemics in human history, which cost the life of an estimated 75 to 200 million people. The protective suit consisted of an ankle length overcoat and a bird-like beak mask. The costume itself originated in the 17th

The Mask is the only thing that was correctly based off of the plague doctors.
Sadly, it does not protect 47 from the Bio-lab.
External links
Community content is available under
CC-BY-SA
unless otherwise noted.