Roblox: DeepWoken - The Loop
Play Sound
Sapienza is a fictional small coastal town located in Italy. It is home to the ancestral Villa of the Caruso family, and is the location where the missions World of Tomorrow, The Icon, Landslide, and The Author take place.
Description
Sapienza is a town on the Amalfi Coast south of Naples and a popular tourist location. It is comprised of shops, apartments, restaurants, and small cafes. A public beach is located at the far end of the town, near a small church.
Its most notable feature is Villa Caruso, a multi-story mansion owned by Silvio Caruso, who inherited it from his mother Isabella Caruso.
Sapienza was also chosen by actor Dino Bosco as a filming location for the climactic battle scene in his superhero film The Icon some years before the events of Landslide and World of Tomorrow.
Trivia
Sapienza is not a real city in Italy, but the Amalfi Coast is a real stretch of land south of Naples in the Italian region of Campania.

During The Last Resort mission in HITMAN™ 2, a couple can be found between the pool area and cocktail bar having a conversation, in which they discuss moving to Sapienza. The woman scoffs at the idea, stating that the city sounds like it was made up.

Sapienza University of Rome is a real collegiate research university in the Italian capital.
In all missions besides The Icon, one of the exits is a coupe parked outside of Villa Caruso.

During the car's driving animation, 47 will occasionally run over a tourist who is taking pictures in the middle of the road. This happens in both World of Tomorrow and The Author.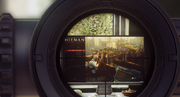 Gallery