The Graveyard Shift is the 12th mission of Hitman 2: Silent Assassin and is based in Malaysia. It is the 2nd of three parts of the hit on Charlie Sidjan. It seems like it is time to hack up the system.
Target: None
Objectives
Plant the hacking device
Escape
Maps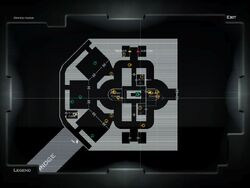 Weapons
Beretta 9mm Pistol - Carried by all of the guards plus one in the system administrator's office.
9mm Pistol SD - Inside the weapons box at the south side of the office floor.
Fire axe - One Inside of the guard room.
Disguises
Security Guard
Computer Staff
System Administrator
Trivia
The name of the mission is a pun on the phrase "graveyard shift," which refers to a late shift at work, usually past midnight. The employees still working at the office in this mission were likely working graveyard shifts. The same name and same pun was used for a Harry Patterson novel and a story by Stephen King.
It is the first mission to not feature any kind of briefing, aside from the first and last mission of every game in the series. The second one is The Jacuzzi Job.
This mission marks the only appearance of minor Agency operative Clera, who briefly stands in for Diana.
The beta name of this mission was The Firm/Cracking Carniwarez' Code.
All the NPCs in the mission can be killed with fibre wire without any alert.
This mission spoofs the world's first webcam, which showed a coffee pot so that the office workers would know when there was coffee available.
Video
Community content is available under
CC-BY-SA
unless otherwise noted.