It's a straightforward assignment, 47.
This article is a stub and is in need of expansion. You can help the Hitman Wiki by expanding it.
The Vixen Club is a strip club that appears in Hitman: Absolution.
Information
The Vixen Club is the setting of the second segment of the fifth mission in Hitman: Absolution, Hunter and Hunted. There are multiple stages and stripper poles for the dancers like Irene Enos. The stage on which the strippers dance is pinkishly illuminated and the bar has a bright blue neon color. Down stage aways is a bar set up to cater to your drinking needs. Away from all the chaos of the main stage is a smaller stage for parties and other special occasions. In the back are private booths, including a booth which requires a keycard, possessing a two-way mirror. 
Weapons
Fiber Wire
Metal Pipe
Bottle
Fire Extinguisher
Aries 24-7
M590 12GA
Brick
HX UMP
JAGD P22G
Z&M Model 60
(Disco Ball) Button
Cut Weapons
Bra - Used to replace the Fiber Wire.
Description
"The Vixen Club. After hours establishment. Exotic dancing. Prostitution. Tight security. Rough and tumble crowd. Many potential witnesses."
Gallery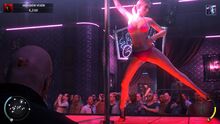 Sources
Community content is available under
CC-BY-SA
unless otherwise noted.