Lord Winston Beldingford is a wealthy British man, suggested to be a nobleman.
Background
Hitman: Contracts
He secretly partakes in human hunting at his manor, with his son Alistair Beldingford and their select group of friends (a parody of The Most Dangerous Game).
He is lustful of the maids in his mansion, and even built a secret passage and two-way mirror near his bedroom that allows him to spy on them showering. He seems to have sexual success with them (he shares his bed with one maid during the level), but it's implied that they otherwise dislike him.
He regularly fires and rehires entirely new staff, and one maid hides poison and an escape ladder in her bedroom.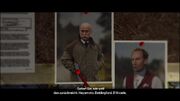 HITMAN™
A picture of him is seen in the tornado shelter on the private militia training site in Colorado in the mission Freedom Fighters, so the militia seems to know about his assasination in 2004.
Gallery
Trivia
"Lord", if a genuine title, is only given by the Queen of England and even comes with limited political power. A much lesser variant of the title can be purchased by large-scale landowners, but Beldingford would have to call himself "Winston Beldingford, Lord of the Manor of Beldingford" (which is attached to his property) rather than simply "Lord Winston Beldingford" (which is attached to himself, and would appear officially on his passport, etc.).
Community content is available under
CC-BY-SA
unless otherwise noted.